I created this article for an old client, last year – and it seems fitting to reflect on this entering a new year and building a brand in these shifting sands…
---
We know we are living in a time of radical change, on an unprecedented scale and at a fast pace – courtesy of a global and networked economy.
Change now happens faster and with less predictability than ever before. Today, change is the new normal. This affects business, consumer behaviours, supply chains and makes future projections more difficult to navigate.
What does this mean for your brand and design assets of the business? How can change and brand be harnessed as a force for improvement, perspective change and innovation? How do you create a resilient brand that can survive these murky waters, where change is part of its DNA?
It's currently claimed that established brands are taking far too long to adapt, and what's needed is an ability to adapt, be agile, change direction and to listen and learn, quickly. No small task.
Where do you start?
You need an effective brand strategy – described as "a plan that encompasses specific, long-term goals that can be achieved with the evolution of a successful brand – the combined components of your company's character that make it identifiable." It should cover who you are, why you exist, how you operate, speak and look, how you're unique and who you exist for.
An effective strategy needs clarity and purpose at its core and is what Cynthia Montgomery, Professor at Harvard University and author of The Strategist, describes as "a system of advantage", which can drive business strategy and directly impact your bottom-line.
It must have two elements – internal, employee-facing and external, public/consumer-facing. These are two sides of the same coin and intimately impact one another's success.
As times change, our traditional strategic approach and behaviour needs to change with them – starting with a mind-set shift to help prepare our brand for the unknown.
---
You may also like:
How to build your brand : PURPOSE
How to build your brand: POINT OF DIFFERENCE
How to build your brand: PRINCIPLES
How to build your brand: PERSONALITY
How to build you brand: CORE IDEA
---
Harness latent value
As a brand strategist and design manager, I believe this also includes a shift in how brand and design's role is viewed, highlighting its inherent (latent) value to the business.
As demonstrated in Stewart Brand's design theory, about Pace Layering, the deeper/higher design and design thinking is used, the more agile, expedient and aligned a business can become. This can lead to a convergence of technology, consulting, marketing and design, rather than traditional divergence and a culture that supports working in silos.
Using design as a strategic asset to transform how organisations and entities work is now a recognised tool, as it provides the ability for businesses to understand and connect people who sit at the heart of the brand and organisation and their audience – who they are, what they feel, what are their needs, wants, darkest secrets and deepest desires.
The brand strategy must first start with people and consider shifting culture and behaviours, breaking bad habits, embracing new processes, and leveraging team mentalities. It then needs to have a keen ear and dialogue with its audience to ensure the rapid changes are picked up and responded to.
Examples of mind-set shifts for brands moving to people-centric and outwardly focussed are depicted in the following diagram/model: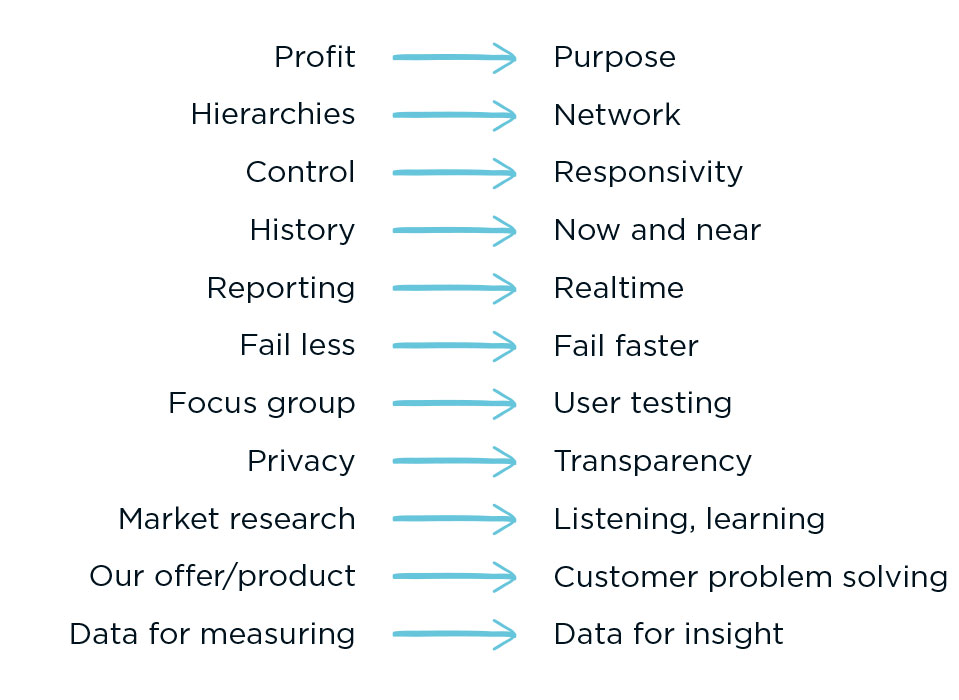 Model 1: Mind set shifts for resilient brand building
With this in mind, here are 5 tips on how to build a resilient brand in the face of change: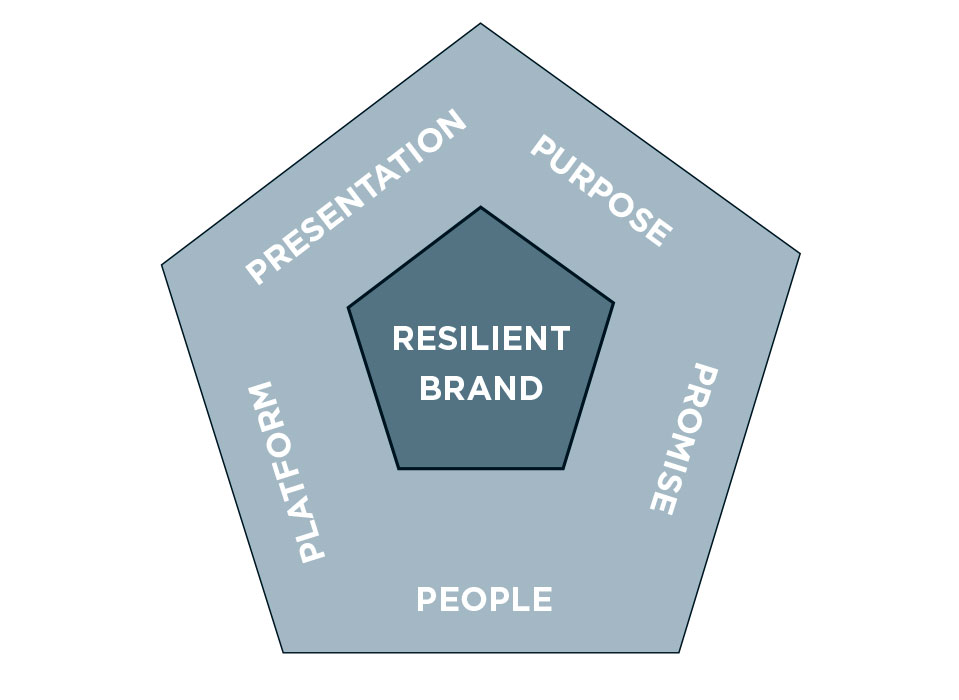 Model 2: Building a lasting brand in times of uncertainty; Jones, L, 2018
1. Purpose
Find your purpose and live it.
Whilst understanding WHAT your business does and HOW it does it is important when establishing your brand positioning, having a clear understanding of WHY the business exists is where the real value is and will help you stand out from your competitors. It is unique to you.
Traditional campaign and claim-led brand messaging leave your brand with short-lifespan marketing messages and exposes you to challenges from competitors and consumers.
Enduring brands navigate uncertainty and ambiguity through purpose-driven strategy, where the brand's truth runs deeper than any strapline or media campaign.
What's your brand purpose, why do you exist? How do you embody it?
2. Promise
Delivering on your brand promise.
Understanding and believing in your brand values is easy, anyone can write them on the wall and read them: Living them and converting them to customer experiences is far harder and immensely valuable.
Consumers increasingly demand responsive, engaging and authentic brand experiences. Consumers want transparency and visibility when they engage, and they want an aligned, cohesive and positive brand experience at every step of their journey. Your brand is only as strong as the last customer experience. Brand is perception, and so incongruent experiences are damaging to your brand. Invest in your people to ensure they invest in your customers.
Does your team understand and embody your brand values? How do you monitor your customer experiences? 
3. People
It's still all about people.
Customers are not always rationale beings – they have innate desires to build relationships and connect with others. All facets of design and design thinking can be used to create an empathic brand that connects with people and taps into a deeper emotional level to help strengthen your relationship and harness loyalty. All with a view to increasing resilience and sustainability of the brand. Relevant and meaningful interactions with customers add greater value to their experience of your brand – for this, look also to a wider network or "ecosystem" to embrace new ways of understanding consumers and how they engage with your brand.
How do you build meaningful relationships and harness loyalty with your customers?
4. Platform
Encouraging an open dialogue.
Nurture a culture of oversharing, collaboration and team – be an open platform for feedback, development and innovation. The market and industry are one giant network; we are instantly accessible, and sharing information is common practice.  A brand should make the most of everyone and everything being connected – to improve agility and efficiency. Collaboration encourages cross-pollination of skills, inter-departmental connections and improves cultural interactions.
Can you harness technology to connect your teams and audiences? How do you encourage an open culture with your brand?
5. Presentation
How you go to market.
As designers, we all want our brands to go to market looking, feeling and speaking their absolute best. Your brand needs to be distinctive, remarkable, memorable and consistent. No small feat.
Take the first and arguably most important brand asset – your logo: invest time and thought into this symbol as it represents your brand and everyone who works in it.  It needs feeling behind it to achieve an emotional response from your customers.
To build brand recognition, trust, and encourage loyalty, you need a consistent and cohesive presence in the market both visually and through your tone of voice:.  Brand guidelines help designers know the parameters within which to work the brand assets. Avoid talking about things that don't relate to or enhance your brand story and purpose.
Consistency doesn't have to be unbending. As Kevin Budelmannm, President of Peopledesign, explains, you need "enough consistency to be identifiable, but enough variation to keep things fresh and human". Flexibility enables changes that build interest and differentiate you from the competition.
Do you consistently and creatively go to market with your brand messaging? Do you have a strong, differentiated brand identity that people can recognise?
Build a 'system of advantage'
Building a resilient brand is about having a strong and effective strategy, set of beliefs, clear purpose and a PLAN. This strategy can be used as a 'system of advantage' and can build brand resilience when combined with an evolutionary mind-set.  This new way of thinking and operating is needed to encourage agility, flexibility, speed and efficiency, which is what's required to navigate these changing times.
This can begin with first understanding the value of design, and the transformational nature brand can have on a business – from your bottom line to culture, through to customer experience.
Don't be afraid of designers – they can offer more than you might think.
Top takeaways:
Being purpose-led and not claim-led will help connect your audience to a common purpose, with empathy, emotion and authenticity. Find your common purpose.

Deliver on your brand promise in all aspects of the customer journey – ensure you are aligned and congruent, and consistently show up and deliver outstanding experiences.

Simply managing brands is not enough anymore: customers are expectant and understanding; their full experience is what will build lasting relationships. Connect with your audience.

Listen and learn from your teams and customers – have an open dialogue, collaborate, be willing to share and be transparent.

Be consistent and recognisable but creative, distinctive and fresh with how you show up.
Where are you with your brand story?
How can you build brand resilience?
Are you doing enough as a brand to deliver on your brand promise?
Are you giving your customers the best and most relevant experience?
Where are you in the market and where do you want to play tomorrow?
Get in touch and tell us today!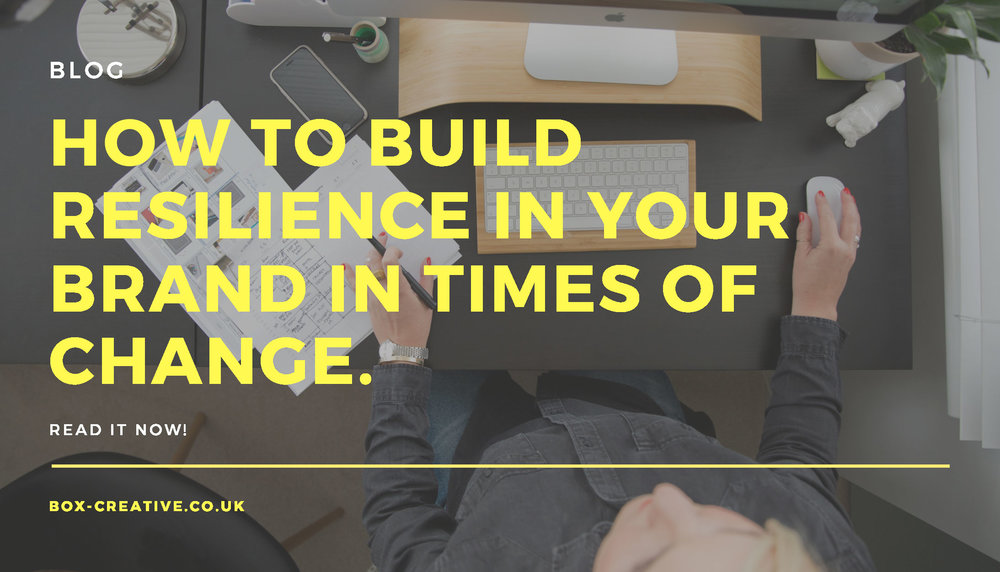 ---
Shirlaws Group advise private enterprise how to grow, fund or exit their business in order to enjoy their life's work. They help them find the confidence to change, the courage to invest and the freedom to choose their path.
Find out more about them at www.shirlawsgroup.com.
---
---
Resources:
Oliver, R; "Resilient Brands: a framework for brand building in the digital age"; 29.11.2016
Stec, C; "Brand Strategy 101: 7 Essentials for Strong Company Branding" ; 31.1.2018
Montgomery, C; "The Strategist: Be the Leader Your Business."; 2012
http://firstround.com/review/this-is-how-you-design-a-lasting-brand-an-inside-look-at-gustos-reinvention/
Pace Layers Thinking: Paul Saffo and Stewart Brand @ The Interval — January 27, 02015

https://blog.nordkapp.fi/the-new-invisibles-a-look-into-the-changing-face-of-design-31531b7326d6
https://www.forbes.com/sites/forbesagencycouncil/2016/12/27/why-resilient-brands-sell-with-purpose-not-claims/2/#4c1a3a762ae3
https://www.gensler.com/research-insight/in-focus/change-by-design-a-new-framework-for-leading-continuous
Bodine, K; Principal Analyst Customer Experience, Forrester Research, defines "Customer Experience Ecosystem" as:"The complex set of interdependent relationships among your company's employees, partners, and customers that determines the quality of all customer interactions."