Helping you realise your boldest ambitions.
How we do things around here, what's important to us and how we can help YOU.
Our purpose.
To celebrate women with beautiful, strong and confident branding so that they can realise their boldest business ambitions.
Our mission.
To build a company that champions women and leverages the power of brand design, to deliver extraordinary strategy, creative solutions and platforms to enhance the economic impact of women in business.
Our vision.
To make brilliant brand design accessible to purpose driven women business owners so that they can focus on building profitable businesses.
Self-responsibility.
Own your own sh*t and the courage to change what you can change.
Lift each other up.
Celebrate wins, learn from the blips, don't lead with fear but with confidence.
Pass it on.
We all have something of value to give and share, speak it, share it and help others.
It starts with you.
Always, so be kind to yourself, believe in yourself and be yourself!
Start your brand growth journey:
Your Brand Check In
A brand audit without the snooze.
Get crystal clear on where your brand needs nurturing.
Download: FREE
Your Brand Identity Checklist
Take ownership of your brand identity.
Grab my checklist and get control of your beautiful, bold brand.
Download: FREE
Brand Refresh or Rebrand
Do you have brand growth overwhelm, don't know where to start?
Grab our explain-all guide to brand refresh vs rebrand.
Download: FREE
Diamonds are a girl's best friend? Right?
The Double Diamond methodology elegantly simplifies what the messy and non-linear process design is all about – and this applies beautifully to the brand build process. It's tried and tested, and we've adapted it to our process.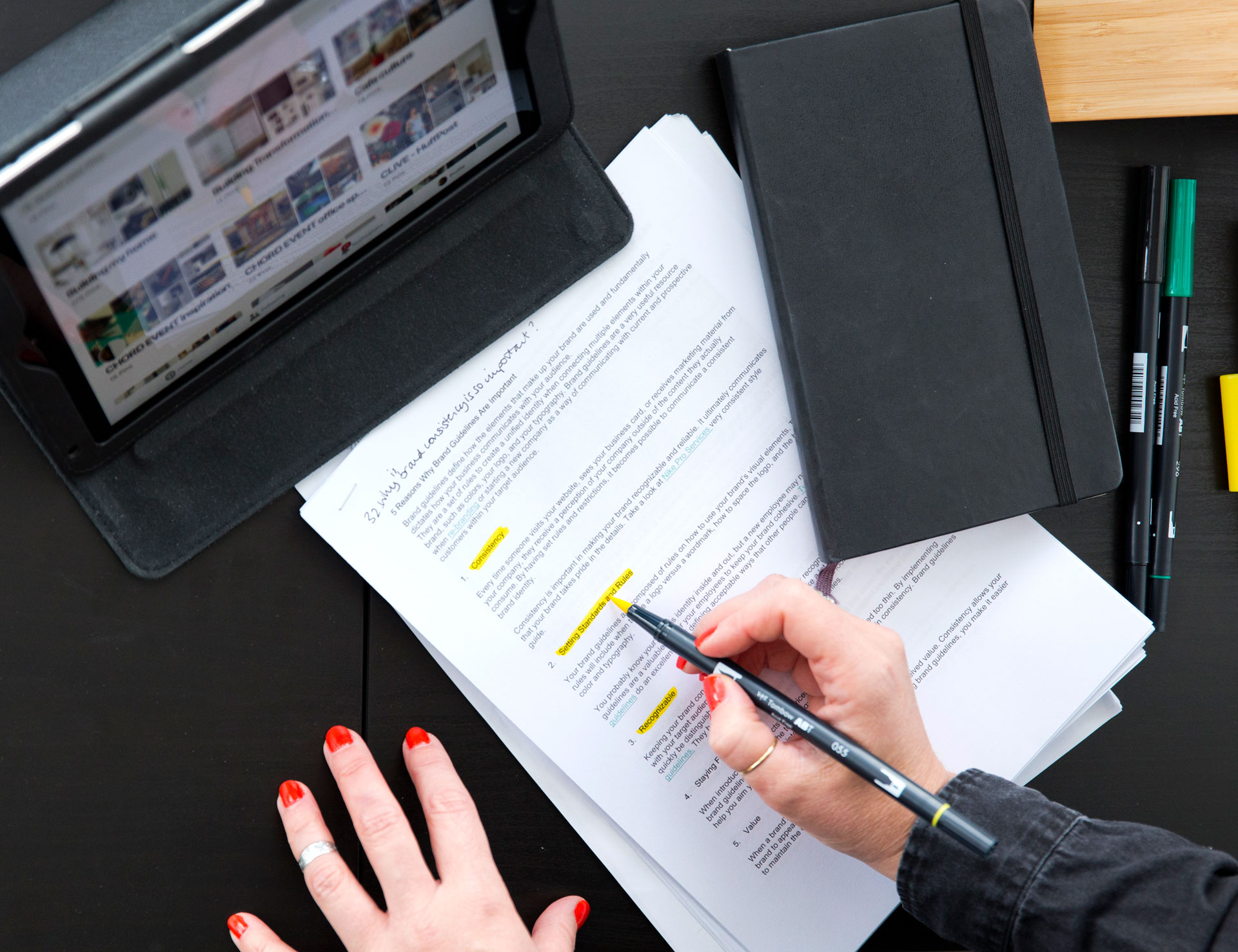 How it works.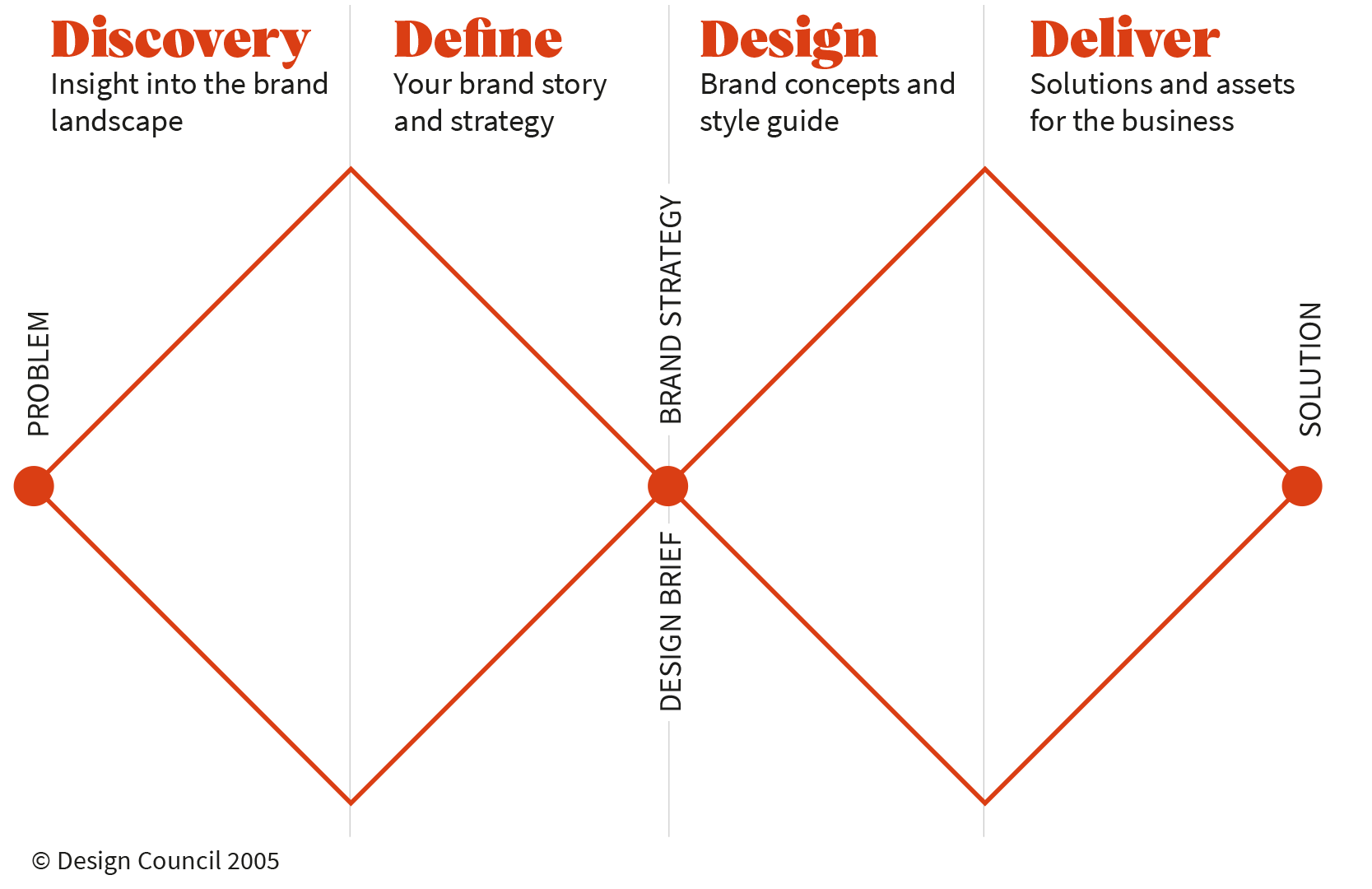 But first… coffee… I mean, STRATEGY!
The strategy MUST come first: it is the building blocks of everything that comes next.
This comes in Discovery phase: understanding your brand landscape, opportunities, audience, competitor and where you want to play
Define: then defines who you are, why you matter, who you're for and how you show up. We adopt our own, unique frameworks to build your brand story with you.
Without these two stages, you cannot get to a decent brief, to then design the brand itself. In the Design phase, we create with colour, form, texture, pattern, typography and words, to get the right visual and verbal tone for your business – always unique, considered and beautiful.
Once all of this is in place and you're happy – we then Deliver all the assets your business needs to go to market with confidence, style and substance.
What we do.
We offer root to leaf solutions with our 3 fab packages:
Brand Roots
An online course to build your brand strategy – get clear with your why, who, what and how you wanna get there.
Find out more
Unearth Your Brand
An intense 1 day session, with me, to review your Brand Roots, reframe your brand strategy, get clarity on what you are building for tomorrow – jam packed with insights and inputs from me.
Find out more
Brand Greenhouse
The full shebang, complete 1-on-1 service from Discovery to Delivering your brand vision, strategy, story, design and your starter brand assets kit to get you to market with style and confidence.
Find out more
Are you saying "yes" to any of these?
You're an ambitious business owner.
You've worked hard to get your vision off the ground and to market. You've watched it gain some momentum over the past few years and now you're ready to see it mature and evolve in a whole new way.
We can evaluate where you are and where you're going and build something fresh, together – you'll have a great brand for your next steps, and then some.
You're willing to enter a creative partnership.
You're ready to work with a professional who has your best interests at heart and LOVE what they do! You place a high value on the creative process and understand the value brand strategy and design will bring to your business.
You're creative, visionary and know what you
want.
But you can't quite visualise it or find the words that reflect exactly what you're about and where you're heading. We can unravel that and turn it into something solid, living and breathing – with a clear message, voice and visual identity.
You're a budding entrepreneur.
But your skills are currently being wasted working for "The Man", while you're bored and wanting to go it alone…. Time to make your mark in the world and build that business you've been planning for some time!
If you feel like a polished and complete brand and website is a long way off, remember all businesses start there, and we've helped many through it.
Then you're in the right place!
We will create a strong, bold brand strategy and beautiful visual identity for your business that represents you and talks to your audience.
Ready to grow a brand that's out to make a difference and lift people, business and communities? I think we'll get along pretty well…
So, let's talk – I'd love to hear all about your purpose and how I can help!
It all starts with you. It's time to make a difference.
Contact us
Want to learn more about growing a brand?
We also offer courses and have loads of free stuff for you to have a look at.
See our resources
We have some fab packages to help you build your brand.
Check them out
Join the armfuls of talented, powerful, kick-ass women in business that are unearthing the power of brand and design in their business through Box Creative.
Wanna know more?
Sign up below for instant access to the Box Creative Purpose Document, outlining all the ways we can help. PLUS really good, no-nonsense, tips and tricks that'll make you feel in control of your brand.