We know the importance of your customers – they are your absolute everything.  They are the very reason you are where you are today.
How can you ensure this loyal follow continue to come back again and again – meeting and indeed exceeding their expectations, weaving a sense of consistency throughout everything you do?
You do this by having every brand touchpoint covered, designed and delivered against your values and brand promise.
Question:
What on earth is a brand touchpoint? Good place to start!
A brand touchpoint is any bit of interaction or communication made between a brand and its customers. Touch points are designed and produced by the brand in order to engage their customers, giving them the best brand experience they could possibly have. The occur at every stage of the customer journey – pre, during and post purchase.
Brand legend Wally Olins, stresses the importance of consistency with these touch points "or interaction with an audience, it needs to look, feel and behave like itself."
What's the significance of touch points?
Touch points offer an opportunity to communicate with your customers on a day-to-day basis. This results in a relationship being built and exchange of information that allows for continued brand awareness, engagement and, hence, custom.
Therefore, every form of contact a customer has with your brand needs to be effective, on brand and enlightening or engaging in some way.  They should be well planned to deliver the biggest impact for your clients, to keep them coming back for more.
How do you build a great experience system?
So how can you create and deliver the very best brand experience for your customers? How can you build and sustain killer touch points for new and existing clients?
---
You might also like:
What exactly is the difference between brand and branding?
5 things to avoid when branding your business
---
1. Identify your Touch points
List all your current touch points. It may be as small as a post on Instagram to something as big as an advert in a magazine.
Consider the complete customer journey – pre, during and post:
PRE: How do they hear about you or come across your business? What are you saying, how are you showing up and where? What are the first impressions?
DURING: When they are purchasing from you, what's the communications, promise and customer service like? Are you delivered what they expect, are you disappointing them or smashing it?
POST: How are you nurturing your customers post event? Do you have after sales care, easy customer service procedures, a loyalty programme?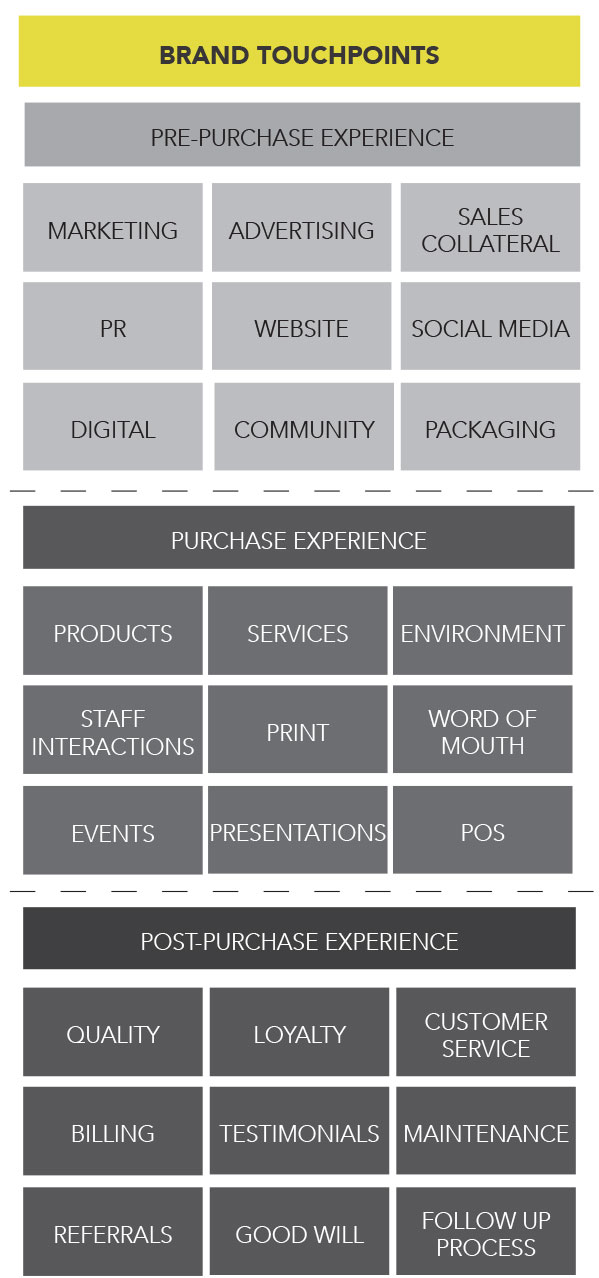 By considering these, and opportunities where you're not active yet, you will consider every eventuality of someone interacting with your brand. Try and focus on streamlining your current touch points, making them thread between one another as a unit rather than just separate, individual pieces.
Ensure you have something in place to answer these situations, design them to be easy, simple, fun, engaging, value add and authentic, and be consistent across all these.
When used effectively, they can enrich your brand and ignite your marketing strategy, allowing your business to take off.
TOP TIP
New technology can be a game changer with your touch points – with constant change and growth of digital media you need to be aware of these ever-evolving changes in technology and what that can mean for you and your customers. Keep tweaking your brand touch points in order to create the best customer journey possible.
2. Look at how others are doing it – good and bad!
Every had an experience that you have loved, found super easy, surprisingly helpful and delighted you? Dissect what it was at each stage that made it so.
Equally consider a bad, incongruent or disappointing experience with a brand. What was is that made it so bad, could any of it have been avoided, what was the fundamental issue?
What lessons can you draw on from these good and bad experiences – learn from them and implement in your own brand experience.
Brand experience is closely linked to two factors:
Ease of use: The reality is that customers will choose the easiest, simplest and prettiest option out there, no matter how much your services might be the best for them. So keep it user friendly, put yourself in the customer shoes and DESIGN your customer journey and touch points with usability in mind.
AND
Delivering on your brand promise: Ensure you embed your values at every stage of this journey so as not to disappoint. This is done through your communications, environments, product/services and behaviours as an organisation.
3. Keep eyes, ears and minds open with your brand experience
The only true constant is change: customers are fickle, technology can bulldoze or revolutionised processes and trends or behaviours can create shifts in what people want and how they want them… It's important that you keep up on what's relevant with your audience and that you're delivering the best experiences you can.
Have a review process in place, ask for feedback from customers, measure performances of activities and be prepared to adjust your touch points accordingly.
TOP TIP
Speaking to your clients can be scary. But there's no better way to actively review your progress and touch points than by involving your customers.  This is a great, practical way to see what you are doing right, and perhaps point you to areas you could improve on.
Be confident.
Just ask your customers what they think of you! They can be more receptive than you think.
Get them to tell you where you need to improve and what you need to continue doing. Consider emailing surveys (such as Typeform or Survey Monkey), running an incentive or competition to entice them to participate or make a review process part of the post purchase journey.
---
---
4. Stay consistent and true
Brand and consistency go hand in hand: build value in your brand, don't then devalue it by going to market with something that is simply not you; you need to stay true to your brand.
This will help establish a level of professionalism, trust and a readily recognisable experience. Customers are loyal to you because of your consistency and your unwavering stability and integrity.
Your customers have already made a connection with your brand, and they like you because you're you. Every time you interact with them using your brand touch points, you are creating an opportunity to reinforce what you're about, shaping and reshaping their impression of you. This does not mean perfection.
Another legend Richard Branson captures this perfectly:
So keep your brand integrity and stay true to your brand and to your customers.
Focus on crafting unforgettable experiences for your customers by making every touchpoint count. If it doesn't feel organic, assess if you really need it as part of your experience – ditch it if not! The most memorable experiences you'll ever create from your clients are the ones born straight from the heart.
---